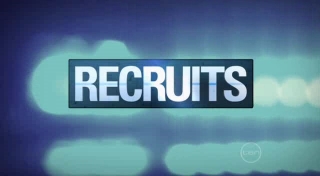 Dauer: 22:00 | Größe: 180 MB | Sprache: Englisch | Format: Xvid | Uploader: Destiny
The Recruits is an observational documentary series that follows a group of police recruits as they embark on the long and gruelling journey towards becoming fully-fledged police officers.
With unprecedented access to the New South Wales Police Academy and its recruits out on the beat, the series will give audiences a rare glimpse at what's required of the people we entrust to keep the peace and uphold the law.
The series will follow two groups of trainee officers. The first group are student Recruits beginning 8 months of gruelling training at the NSW Goulburn Police College. From fresh-faced 18-year-old school leavers to married men and women looking for a career change, this group of recruits will be put through the ringer to test if they have what it takes to be cops. We'll see them leave family and friends for 8 months and we'll come to understand the personal and financial sacrifice each of them make with the goal of becoming a police officer. We'll be with them as they tackle their first fitness assessment, learn how to handle and fire their weapon and perform a textbook arrest. But not all of them will make it. It may be that the financial pressures are too great, or that the physical training is simply too much for them to cope with. Whatever the reason, some recruits will leave the academy prematurely with their dreams of becoming a police officer in tatters.
For those who do make the grade, we'll see them graduate from the academy as the second group in the series. It's a ceremony rich in symbolism: they remove the blue student bands from their caps to reveal the blue and white checks that are an international symbol of policing. But their time to celebrate and reflect is short – many will find themselves on duty the following day. The pressure is on, and as Probationary Constables, these recruits will have to rely on their training and intuition to get them through some very tricky situations. We'll witness the landmark moments in any officer's career: their first arrest, attending a crime scene, dealing with alcohol fuelled street violence and the moment every officer dreads, their first fatality.
The Recruits will be as action packed and enthralling as any young police officer's career. The road towards becoming an officer in uniform is a long and bumpy one, and our cameras will be there to capture every moment of drama, elation and disappointment as students are transformed from dedicated civilians into highly trained police officers.
Recruits.S01E01.PROPER.WS.PDTV.XviD-HDCP
Download: hier | rapidshare.com
Recruits.S01E02.WS.PDTV.XviD-RTA
Download: hier | rapidshare.com
Recruits.S01E03.WS.PDTV.XviD-RTA
Download: hier | rapidshare.com
Recruits.S01E04.WS.PDTV.XviD-RTA
Download: hier | rapidshare.com
Recruits.S01E05.WS.PDTV.XviD-Jebz
Download: hier | rapidshare.com
Recruits.S01E06.WS.PDTV.XviD-Jebz
Download: hier | rapidshare.com
Recruits.S01E07.WS.PDTV.XviD-PiX
Download: hier | rapidshare.com
Recruits.S01E08.WS.PDTV.XviD-RTA
Download: hier | rapidshare.com
Recruits.S01E09.WS.PDTV.XviD-Jebz
Download: hier | rapidshare.com
Recruits.S01E10.REPACK.WS.PDTV.XviD-RTA
Download: hier | rapidshare.com
Recruits.S01E12.WS.PDTV.XviD-RTA
Download: hier | rapidshare.com