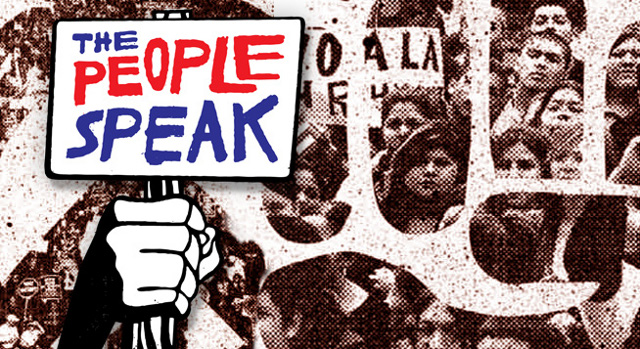 Dauer: 1:30:00 | Größe: 700 MB | Sprache: Englisch & deutsche Untertitel | Format: Xvid | Uploader: sunspots
Während das antike Griechenland als Geburtsstätte der Demokratie gilt, finden wir die Ursprünge der modernen Demokratie, wie wir sie heute kennen, in den USA. Die Geschichte einer der weltweit mächtigsten Nationen hat gezeigt, dass jeder einzelne Mensch in einer Volksherrschaft die Entwicklung eines Landes vorantreiben und mit seinem Handeln etwas verändern kann. Dabei ist es unerheblich, ob der einfache Bürger oder ein Prominenter seine Stimme erhebt und damit den Lauf der Geschichte beeinflusst. Matt Damon, Morgan Freeman, Bruce Springsteen oder Bob Dylan sind nur einige der Stars, die sich in "The People Speak – Die Stimme des amerikanischen Volkes" am 6. November um 20.30 in einer deutschen Erstausstrahlung auf HISTORY die Ehre geben. Schauspieler und Musiker tragen Texte aus dem bedeutenden Buch "Eine Geschichte des amerikanischen Volkes" des Bostoner Professors Howard Zinn vor.
The.People.Speak.Die.Stimme.des.amerikanischen.Volkes.GERMAN.DOKU.WS.SATRip.XViD-TVP
Download: hier | filefactory.com
Download: hier | netload.in
Download: hier | rapidshare.com
Download: hier | uploaded.to
spacer
The History Channel's The People Speak combines a documentary with a stage show and a concert. The material comes from Howard Zinn's bestselling books, particularly A People's History of the United States. As Zinn narrates, photographs and illustrations alternate with readings and performances that took place in Boston and Malibu, California, between 2008 and 2009 (Zinn passed away in 2010).
Producer Matt Damon, who grew up next door to the history professor, starts by reading from the Declaration of Independence, followed by other notables, among them Morgan Freeman (as Frederick Douglass), David Strathairn (John Brown), Marisa Tomei (Harriet Hanson Robinson), Sean Penn (Kevin Tillman, the brother of Pat Tillman), and coproducer Josh Brolin (Mark Twain). Others include Viggo Mortensen, Danny Glover, Kerry Washington, Benjamin Bratt, Rosario Dawson, and Don Cheadle, most of whom play several parts.
Some of the finest readers, however, aren't actors. Run-DMC's Darryl McDaniels, for instance, appears visibly shaken as he reads from "David Walker's Appeal." Except for Bob Dylan's croak on Woody Guthrie's "Do Re Mi" and the edit that splits John Legend's version of the traditional "No More Auction Block" in two, the songs all work well, particularly Eddie Vedder with Dylan's "Masters of War" and Bruce Springsteen with Guthrie's "This Land Is Your Land," the only selection recorded sans audience (Zinn doesn't mention it, but "Auction Block" inspired Dylan's "Blowin' in the Wind"). Supplements include cast interviews and a featurette in which Damon notes that he originally envisioned the production as a television miniseries.
Dauer: 1:53:00 | Größe: 1.400 MB | Sprache: Englisch | Format: Xvid | Uploader: sunspots
The.People.Speak.2009.DVDRip.XviD-LAP
Download: hier | netload.in
Download: hier | rapidshare.com